COVID-19 Wastewater Testing: Keeping Barnard Safe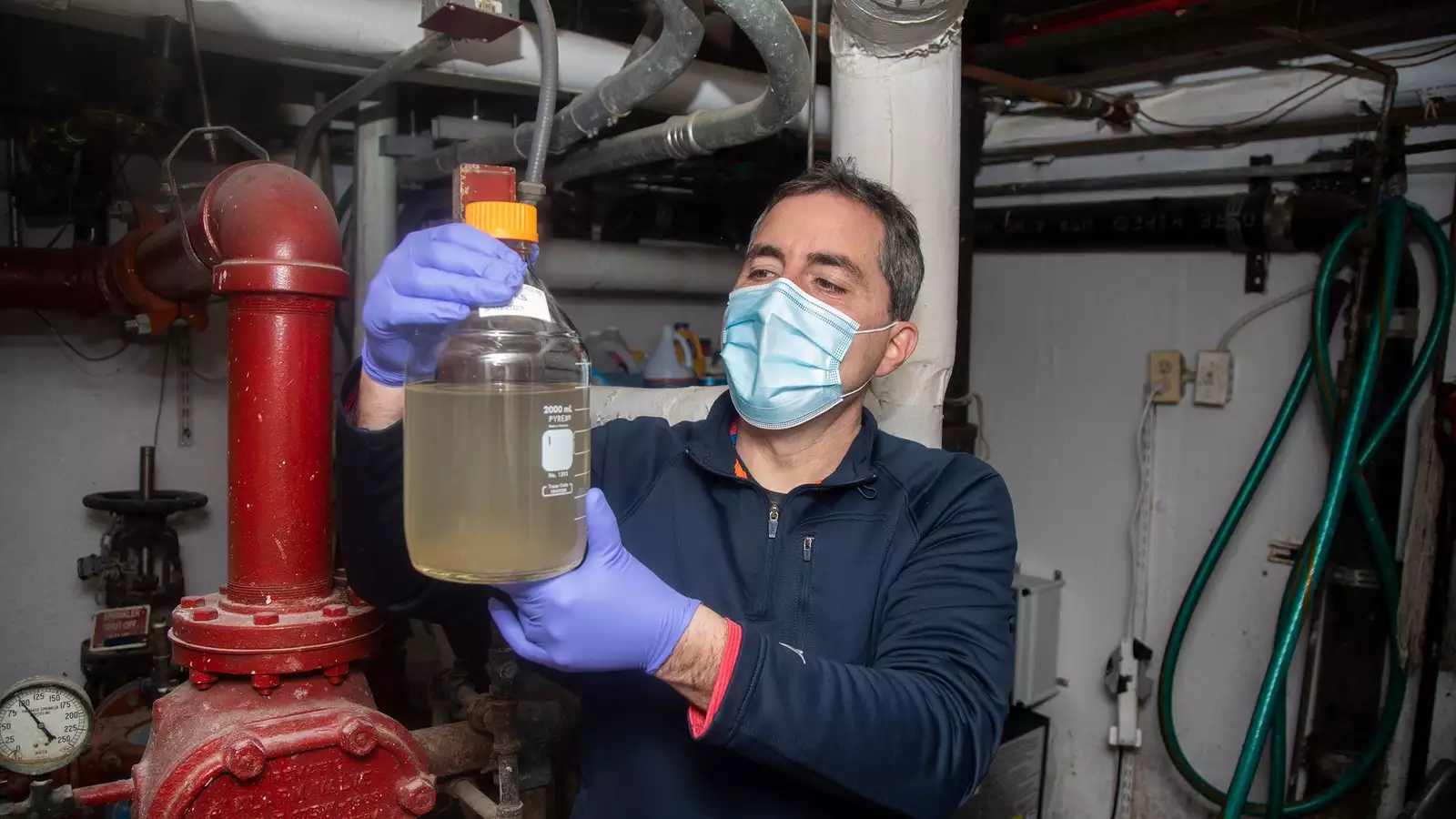 On a chilly Tuesday morning in early January, Nicole Rondeau '18 jumped on her bicycle and pedaled from her South Harlem apartment up the 110th Street hill to meet at Altschul Hall with Barnard plumber Oliver Rose, co-chair of the Environmental Science Department Brian Mailloux, and assistant professor of biology JJ Miranda. Their mission that morning? Brave the basements of campus buildings to retrieve sewage samples on the first official day of an unflinching project to monitor wastewater for the virus that causes COVID-19. 
The ongoing effort has provided administrators with valuable snapshots of campus health for three months now, adding another layer of data to mandatory nasal-swab test results and numerous other efforts to protect the Barnard community during the global health crisis. The project's launch was timed to coincide with the reopening of campus to students this winter. 
Many campuses nationwide, including Columbia's, have recently initiated similar wastewater efforts, because infected people typically shed the coronavirus from both ends. Because the virus's genetic material shows up in human waste, signaling a past or current infection, testing the waters can catch cases potentially missed by nasal-swab testing or before those results come in. This project, funded by the President's Office, required the overnight development of new collaborative relationships and close partnerships among various members of the campus community, many of whom previously had only a passing acquaintance. But another highlight particularly pleases Mailloux and Miranda: the core involvement of Rondeau, a post-baccalaureate laboratory technician, and a half-dozen current student researchers who help retrieve sample bottles and do most of the filtering, concentrating, and analysis of decontaminated samples in the lab. 
"They literally do the dirty work, and they're doing it for themselves, for their friends, and for the College. And that has just been really nice to see," says Miranda, who carved out time from his schedule last fall to lead the team in developing a safe and streamlined set of laboratory procedures. Cell and molecular biology major Lina Ariyan '22 was among those putting in many hours of work early on, even commuting from Rockland County during winter recess to test lab procedures (naturally, the team has, at all times, adhered to required coronavirus risk-reduction guidelines). To detect coronavirus genetic material in the samples, the team modified the same gold-standard method recommended by the U.S. Centers for Disease Control and Prevention for analyzing nasal-swab samples, a technology called polymerase chain reaction, or PCR. 
Ariyan and Rondeau perform professional-level laboratory biology for the project, Miranda says; it's work that is typically performed by people with graduate degrees. "This isn't the expert team that most places have," he adds. "They have really stepped up to do high-quality science in pretty stressful times."
The project's day-to-day procedures are so efficient that a report of the lab results on samples — collected on Monday, Wednesday, and Friday mornings — is emailed by dinnertime that same day to the College's pandemic response team of experts, who oversee coronavirus testing, contact tracing, and quarantining on campus. Mailloux, Miranda, and their group of researchers create the reports, highlighting time trends in rising, falling, or steady concentrations of the virus detected in wastewater. This real-time data helps the pandemic response team make informed decisions. 
The coronavirus wastewater-monitoring idea was the brainchild of Mailloux, a groundwater microbiology specialist who has helped run similar community health projects for many years in Bangladesh, where groundwater was sampled for fecal matter and naturally occurring arsenic. Last summer, Mailloux — aware of the Miranda Lab's expertise in virology — asked Miranda, "Is anyone PCR-ing coronavirus at Barnard? If not, what would we need to do this?" Miranda determined that such a campus-run project was feasible, although some tension-relieving humor was unavoidable. "It became a running joke when I talked with people in my lab and classes," Miranda says. "I'd say, 'Brian Mailloux wants to measure coronavirus in poop water. But if he wants help, I'll do it.'" 
Once the project was green-lit in the fall, the team inadvertently tackled the toughest scenario first, choosing to test their analytic procedures, called an assay, first on wastewater from a communal academic building rather than a dormitory. "In a dormitory, you have toilets, kitchen sinks, showers, and washing machines generating a mix of wastewater," Miranda says. "And the fecal matter of interest there is diluted and relatively easy to handle. A communal building, however, only has toilets, more or less." As a result, the output from the building was much more concentrated than it needed to be, at least at the start of the semester. "It turned out we had set the bar higher than we needed to," Miranda says. The issue resolved over time since more people started to use the building — and its entire plumbing system — as the semester proceeded.
Currently, the team focuses on six buildings, chosen to represent meaningful slices of the student, staff, and faculty population. Wi-Fi-enabled automated pumps, installed with Rose's help at the traps in each building's wastewater outflow pipe, turn on periodically for 24-hour sessions three times a week. If weather makes it dicey for team members to get to campus, Mailloux can turn the pumps on and off remotely using his smartphone. In each building, the pumps deliver material from the outflow through tubing to a pre-labeled glass bottle housed inside a miniature refrigerator that keeps intact any virus that is present. The vessels hold a composite sample, which provides an average picture of the health of everyone who worked, visited, or lived in the building during the previous 24 hours. Team members retrieve the full bottles, placing them in a rolling cooler and swapping in pre-labeled empty bottles for the next day's collection. 
Mailloux, Rondeau, and Rose lug the cooler to an Altschul biology department teaching lab that is now dedicated to the wastewater monitoring project to avoid any cross-contamination. There, Rondeau sets the bottles in a hot-water bath for an hour, which inactivates the viruses and bacteria in the samples but doesn't degrade the virus's structure. 
At noon, a student joins Rondeau; donning green lab coats and goggles, they begin processing the material, filtering and concentrating the liquid from 40 milliliters to 200 microliters. Finally, the pair performs the PCR analysis to test for the presence of the coronavirus. In the late afternoon, Rondeau emails her results to the project's team for the final report.
"It's really encouraging when we see a couple of days or weeks go by during which everything is staying clean," Mailloux says, meaning that Rondeau's lab analysis detects no coronavirus in recent samples taken from all six buildings. 
Down the line, Miranda plans to expand the project's data analysis to test for new variants of the virus that may or may not make it more transmissible or deadly. And although Miranda did not envision that his virology know-how would be put into the service of a campus wastewater monitoring project, he and all the team members take pride in the project. "This is why we do science. Everyone is putting their expertise together to make something useful and tangible for the community," Miranda says.
The project is set to continue as long as it is necessary. As Ariyan puts it: "For the sake of the world, I hope the project ends sooner rather than later. But as long as it is ongoing, I would definitely love to stay on and work on this."
—ROBIN LLOYD