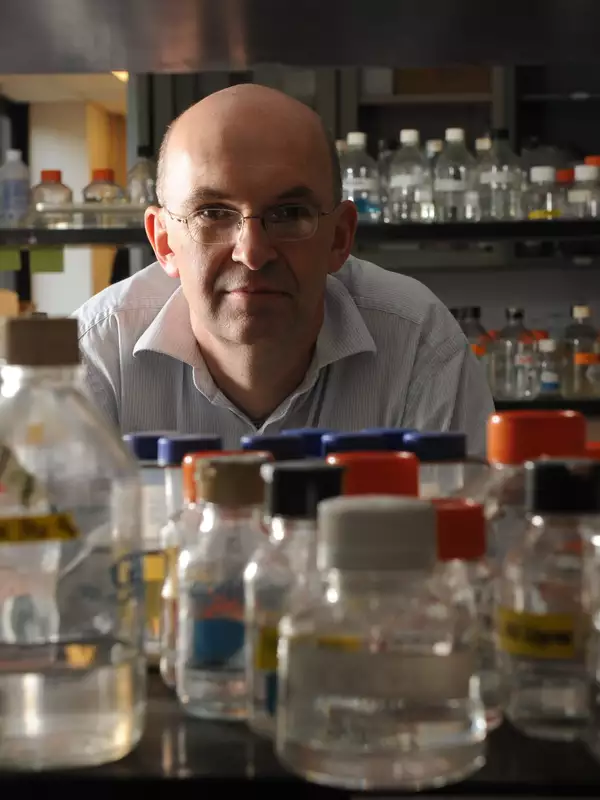 Stephen Sturley
Term Lecturer in Biological Sciences
Department
Office
Office Hours: By Appointment
Contact
I was trained as a geneticist and have developed a research program that has applied genetic and biochemical approaches to understanding human lipid metabolism. Consequently, my colleagues and I have established a gene discovery strategy that has identified several novel pathways of eukaryotic lipid homeostasis. Particular success has been attained with regard to sterol and lipid transport and most recently the role of lipotoxicity in human diseases such as obesity, diabetes and neurodegeneration (mainly through our studies on Niemann Pick type C (NP-C) disease). My laboratory combines genetic, genomic, biochemical and metabolic approaches in model microorganisms ranging from yeast and marine algae, to murine and human models. Most recently, we have identified modifier pathways for autosomal recessive disorders such as Niemann Pick type C. This has led directly to a clinical trial for histone deacetylase (HDAC) inhibitors as well as the identification of phospholipid metabolic reactions as risk factors for NP-C disease. In all instances, our studies were initiated in microbial models, advanced to animal systems (mouse) and then extrapolated to human diseases.
B.Sc. (HONS), University of Birmingham
M.Sc. University of Birmingham
Ph.D. University of Birmingham
Postdoc, Brown University
Lipid homeostasis
Neurodegeneration
Microbiology
BIOL BC1501 Introductory Lab in Organismal and Evolutionary Biology
BIOL BC1503 Introductory Lab in Cellular and Molecular Biology
BIOL BC3303 Laboratory in Molecular Biology
BIOL BC3310 Cell Biology
BIOL BC3311 Laboratory in Cell Biology
BIOL BC3320 Microbiology
BIOL BC3321 Laboratory in Microbiology
BIOL BC3590 Senior Seminar
1994–2013 American Heart Association Council on Arteriosclerosis
2012–2014 American Society for Cell Biology
DeWitt S. Goodman Fellow in Nutrition and Preventive Medicine, Columbia University, (1995)
DeWitt S. Goodman Award, American Heart Association - New York (1995)
American Heart Association (NY chapter) Independent Investigator (1994)
American Heart Association (National) Established Investigator (1997)
Irvine Page Award, American Heart Association (1997)
Visiting Scholar Program, Wake Forest University Graduate School (1995)
Career Scientist Award, Hirschl/Weil-Caulier Trust (1998)
Everson Award, University of Wisconsin-Madison (2007)
Steinbach Research Fellow, Marine Biology Laboratory (2010)
Colwin Research Fellow, Marine Biology Laboratory (2010)
Whitman Award, Marine Biology Laboratory, Woods Hole, MA (2011)
Sturley SL, Rajakumar T, Hammond N, et al. Potential COVID-19 therapeutics from a rare disease: Weaponizing lipid dysregulation to combat viral infectivity. J Lipid Res. 2020 Jul;61(7):972-982.
Hammond, N., Munkacsi A.B., and Sturley, S.L The complexity of a monogenic neurodegenerative disease: More than two decades of therapeutic driven research into Niemann-Pick type C disease. BBA-Mol. Cell Biol.of Lipids. 2019;1864(8):1109-1123.
Munkacsi AB, Hammond N, Schneider RT, Senanayake DS, Higaki K, Lagutin K, Bloor SJ, Ory DS, Maue RA, Chen FW, Hernandez-Ono A, Dahlson N, Repa JJ, Ginsberg HN, Ioannou YA, & Sturley SL. Normalization of Hepatic Homeostasis in the Npc1nmf164 Mouse Model of Niemann-Pick Type C Disease Treated with the Histone Deacetylase Inhibitor Vorinostat. J. Biol. Chem., 2016; Dec 28. doi: 10.1074
Ruggles KV, Garbarino J, Liu Y, Moon J, Schneider K, Henneberry A, ….. & Sturley SL. A functional, genome-wide evaluation of liposensitive yeast identifies the "ARE2 required for viability" (ARV1) gene product as a major component of eukaryotic fatty acid resistance. J Biol Chem. 2014;289(7):4417-31.
Sturley SL, Hussain MM. Lipid droplet formation on opposing sides of the endoplasmic reticulum. J Lipid Res. 2012;53(9):1800-10.
Shechtman CF, Henneberry AL, Seimon TA, Tinkelenberg AH, Wilcox LJ, Lee E, ….. & Sturley SL. Loss of subcellular lipid transport due to ARV1 deficiency disrupts organelle homeostasis and activates the unfolded protein response. J Biol Chem. 2011;286(14):11951-9.
Munkacsi AB, Chen FW, Brinkman MA, Higaki K, Gutierrez GD, Chaudhari J,... & Sturley SL. An "Exacerbate-reverse" Strategy in Yeast Identifies Histone Deacetylase Inhibition as a Correction for Cholesterol and Sphingolipid Transport Defects in Human Niemann-Pick Type C Disease. J Biol Chem. 2011;286(27):23842-51.
Garbarino J, Padamsee M, Wilcox L, Oelkers PM, D'Ambrosio D, Ruggles KV, ….. & Sturley SL. Sterol and diacylglycerol acyltransferase deficiency triggers fatty acid-mediated cell death. J Biol Chem. 2009;284(45):30994-1005. PMCID: 2781500.
Turkish AR, Henneberry AL, Cromley D, Padamsee M, Oelkers P, Bazzi H, ….. & Sturley SL. Identification of two novel human acyl-CoA wax alcohol acyltransferases: members of the diacylglycerol acyltransferase 2 (DGAT2) gene superfamily. J Biol Chem. 2005;280(15):14755-64.
Malathi K, Higaki K, Tinkelenberg AH, Balderes DA, Almanzar-Paramio D, Wilcox LJ,... & Sturley SL. Mutagenesis of the putative sterol-sensing domain of yeast Niemann Pick C-related protein reveals a primordial role in subcellular sphingolipid distribution. J Cell Biol. 2004;164(4):547-56.
Oelkers P, Cromley D, Padamsee M, Billheimer JT, Sturley SL. The DGA1 gene determines a second triglyceride synthetic pathway in yeast. J Biol Chem. 2002;277(11):8877-81.
Wilcox LJ, Balderes DA, Wharton B, Tinkelenberg AH, Rao G, Sturley SL. Transcriptional Profiling Identifies Two Members of the ATP-binding Cassette Transporter Superfamily Required for Sterol Uptake in Yeast. J Biol Chem. 2002;277(36):32466-72.
Tinkelenberg AH, Liu Y, Alcantara F, Khan S, Guo Z, Bard M, ….. & Sturley SL. Mutations in yeast ARV1 alter intracellular sterol distribution and are complemented by human ARV1. J Biol Chem. 2000;275:40667
Oelkers P, Behari A, Cromley D, Billheimer JT, Sturley SL. Characterization of two human genes encoding acyl coenzyme A:Cholesterol acyltransferase-related enzymes. J Biol Chem. 1998;273(41):26765-71.
Yang H, Bard M, Bruner DA, Gleeson A, Deckelbaum RJ, Aljinovic G,& Sturley SL. Sterol esterification in yeast: a two-gene process. Science. 1996;272(5266):1353-6.
Studying Rare Diseases Can Yield Advances For All Of Us (13:05): https://www.capeandislands.org/show/living-lab-radio-on-cai/2019-08-11/studying-rare-diseases-can-yield-advances-for-all-of-us