Seminar & Coffee Hour Speaker Series
About the Series
Created in the fall of 2020 and co-sponsored by the department's Anti-Racism Working Group, this Seminar & Coffee Hour Speaker Series hosted by the Barnard College Department of Biological Sciences aims to highlight and uplift the voices of BIPOC and other underrepresented STEM professionals. Our goal is to have distinguished scientists with diverse backgrounds and interests talk about their research as a way of inspiring our students to think broadly about their own futures. Incorporated into the curriculum of the Introductory Biology Lecture courses (BIOL BC1500 Introduction to Organismal and Evolutionary Biology + BIOL BC1502 Introduction to Cellular and Molecular Biology), the seminars are watched and discussed by students at the beginning of their journey in biology in the co-requisite discussion sections that accompany the large survey lecture courses in both the fall and the spring. In addition to the introductory biology students, the entire department—including faculty, staff, students, and alums—is invited to watch these seminars and then join our distinguished guests at a coffee hour in order to get to know more about their research and their experiences in STEM.
We hope that by exposing them to diverse voices in science, every introductory biology student that walks the halls of Altschul can be certain that they are joining the ranks of scientists who started their own journey in STEM in an introductory course just as they are, and that there is no one way to "be a scientist". Rather than seeking to fit into any particular mold, we encourage our young scientists to think of how they can expand science as a field as they bring their unique perspectives and experiences into this vibrant and ever growing world of inquiry and exploration.
If you are a scientist who would like to participate in this series, please contact our department administrator, Sylvia Niemann (sniemann@barnard.edu), to discuss how you can bring your own research to Barnard's Department of Biological Sciences. We encourage STEM professionals at all stages in their careers to reach out. Speakers are paid a modest honorarium to compensate the work that goes into preparing a talk and hosting a coffee hour. Seminars are recorded and shared internally to make them accessible to our scientific community.
Missed a seminar? Affiliates of the Barnard Department of Biological Sciences should reach out to our department administrator, Sylvia Niemann (sniemann@barnard.edu), to request a copy of the recording.
Barnard Biology Anti-Racism Working Group
The goals of this group include but are not limited to: providing a space for faculty, staff, students, and alumni to discuss issues of diversity, equity, inclusion, and belonging within our department; defining what meaningful change would look like to students; organizing and planning departmental events including the seminar series intended to highlight and uplift the voices of BIPOC and other underrepresented STEM professionals; and generating action items to be considered in the areas of awareness, course pedagogy, major curriculum, research, and faculty hiring. 
Want to join the departmental Anti-Racism Working Group or join the listserv? Fill out this survey. 
Spring 2023/Fall 2022 Seminars
Image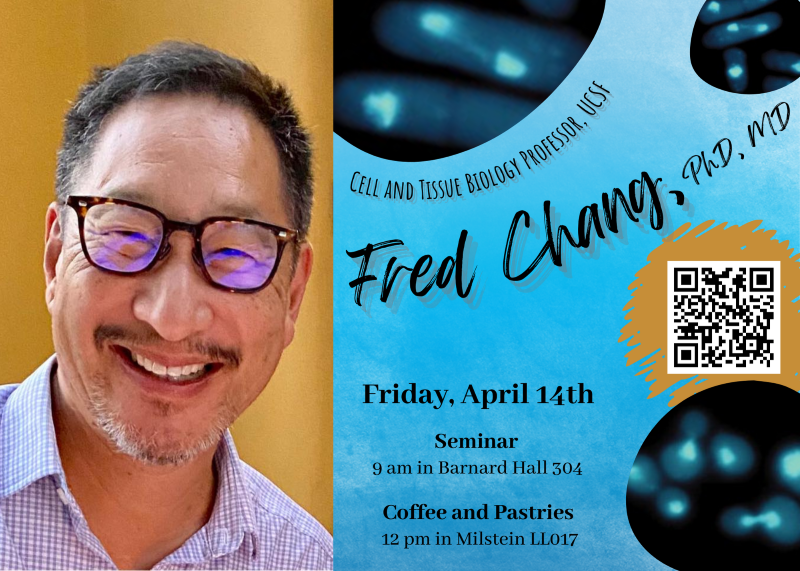 Image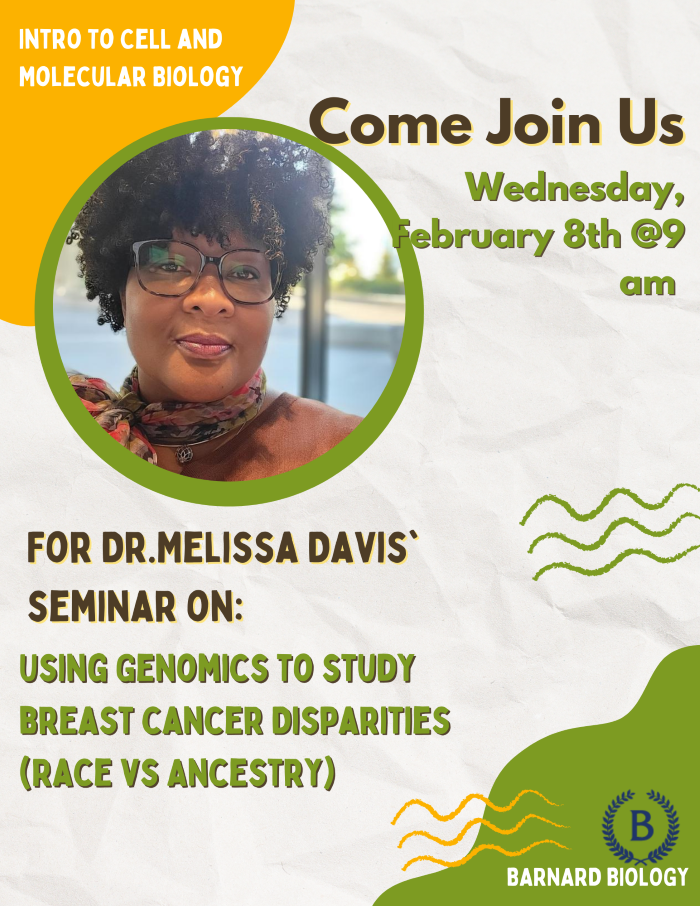 Image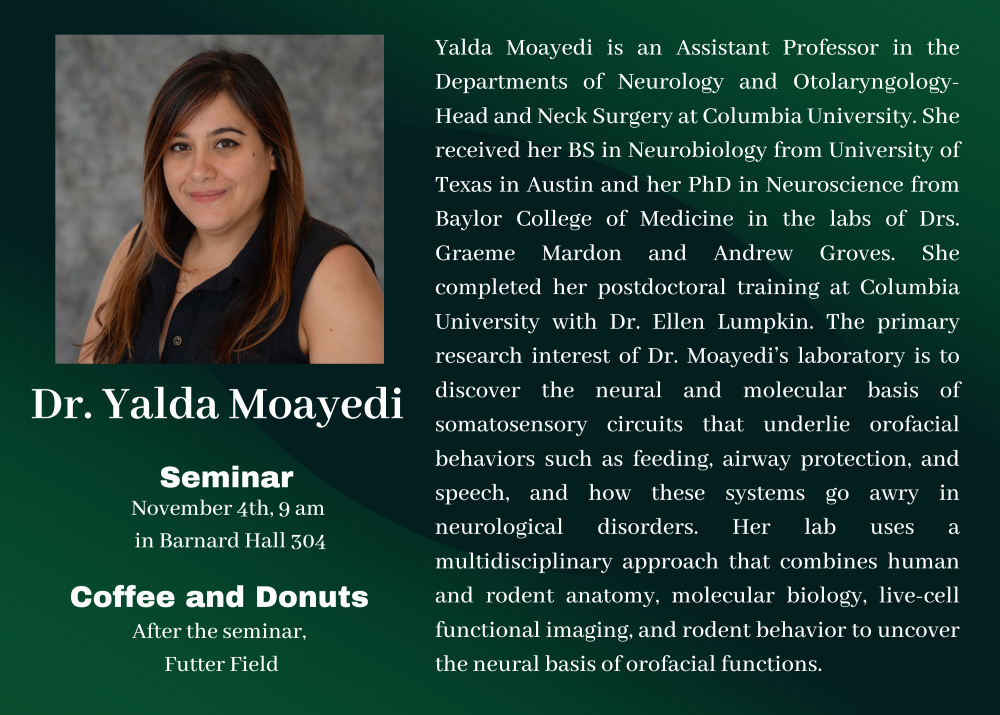 Image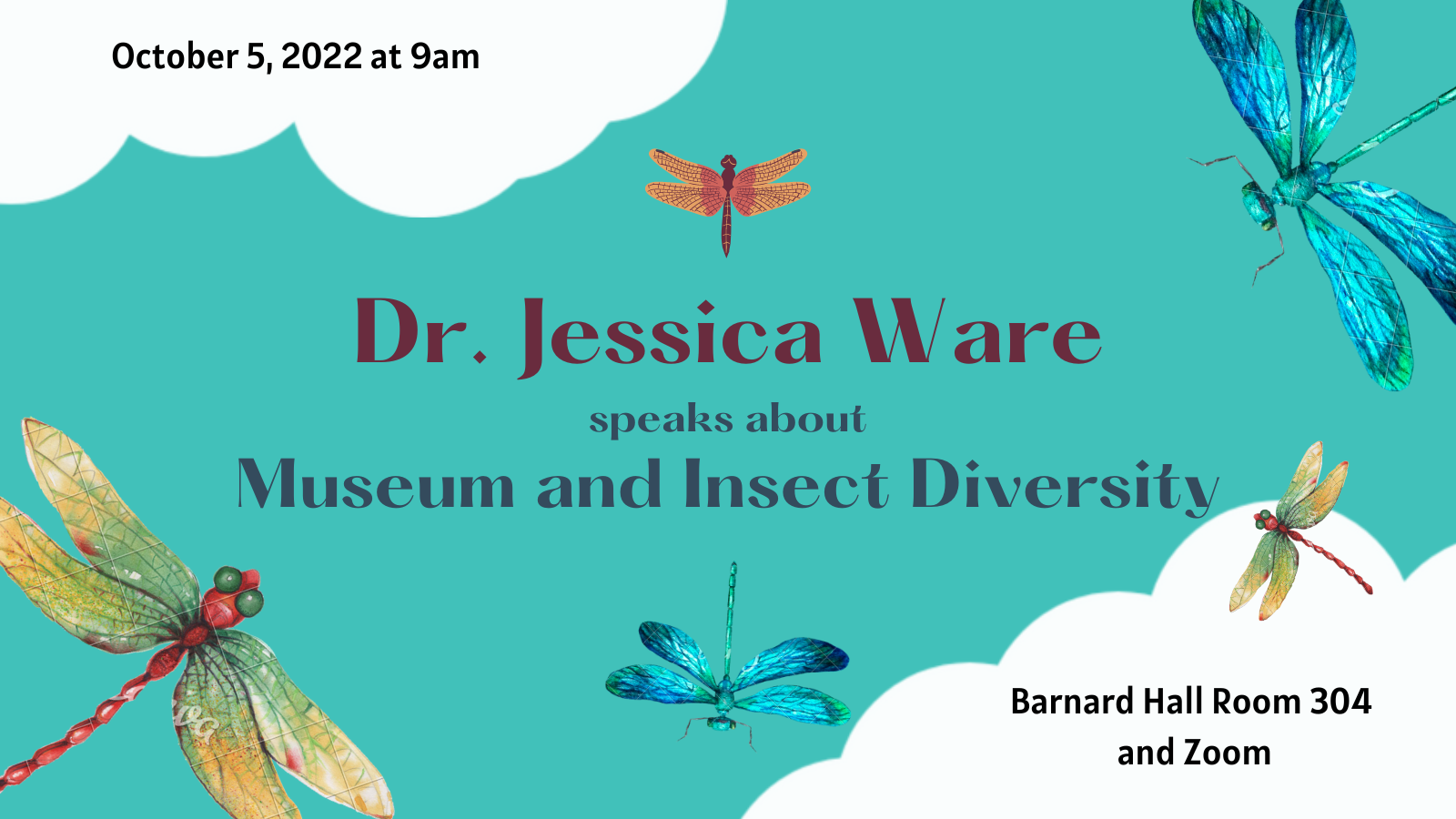 Spring 2022 Seminars
Image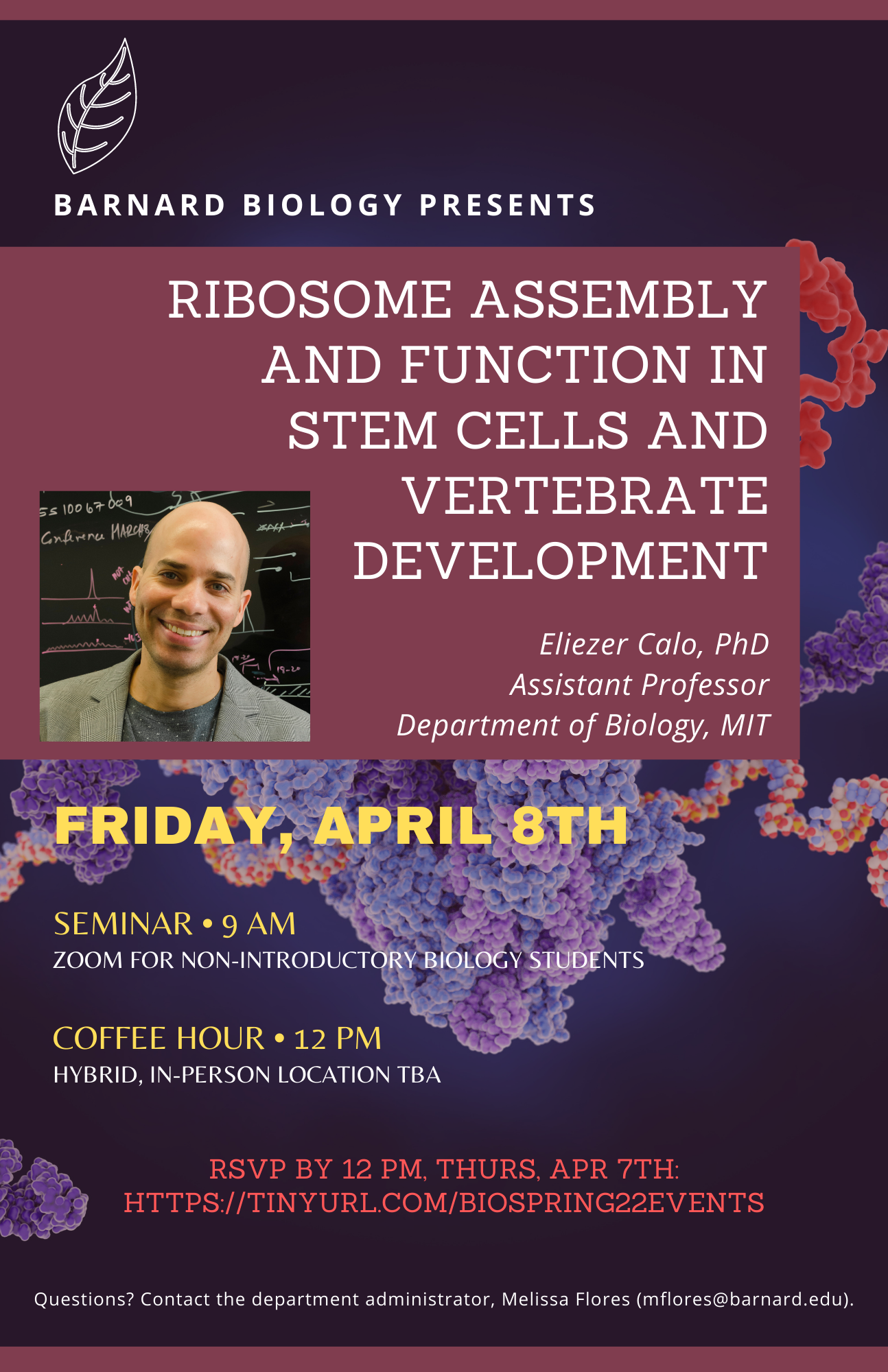 Abstract: The balance of cell growth with cell division determines the overall rates of cell proliferation and the emergence of form and function during metazoan development. The commitment to growth and, consequently, proliferate or differentiate is underpinned by a cell's protein synthesis capacity, which in turn is conferred by the availability and regulation of ribosomes—the protein synthesis machinery of the cell. The way in which protein synthesis allows cells to coordinate their growth with their division remains largely unclear
Therefore, the overarching goal of my lab is to study this fundamental aspect of biology by elucidating how cells build ribosomes and how customizing ribosome function impacts the output of protein synthesis of specific cell types and tissues. We expect our work to provide unique insights into the structure and function of cell-type diversity and potential opportunities for therapeutic interventions for a broader spectrum of complex human disorders.
Dr. Eliezer Calo: Dr. Eliezer Calo is an assistant Professor of Biology at the Massachusetts Institute of Technology (MIT) and the Associate Program Leader at the Koch Institute for Integrative Cancer Research. He was born and raised in Puerto Rico and obtained a bachelor's degree in Chemistry from the University of Puerto Rico, Río Piedras Campus and his Ph.D. in Biology from MIT. He was a Helen Hay Whitney postdoctoral fellow at Stanford University. He has received a Basil O'Connor Starter Scholar Research Award, a Charles H. Hood Foundation Child Health Research Award, and was chosen as a Pew Biomedical Scholar in 2019.
---
Image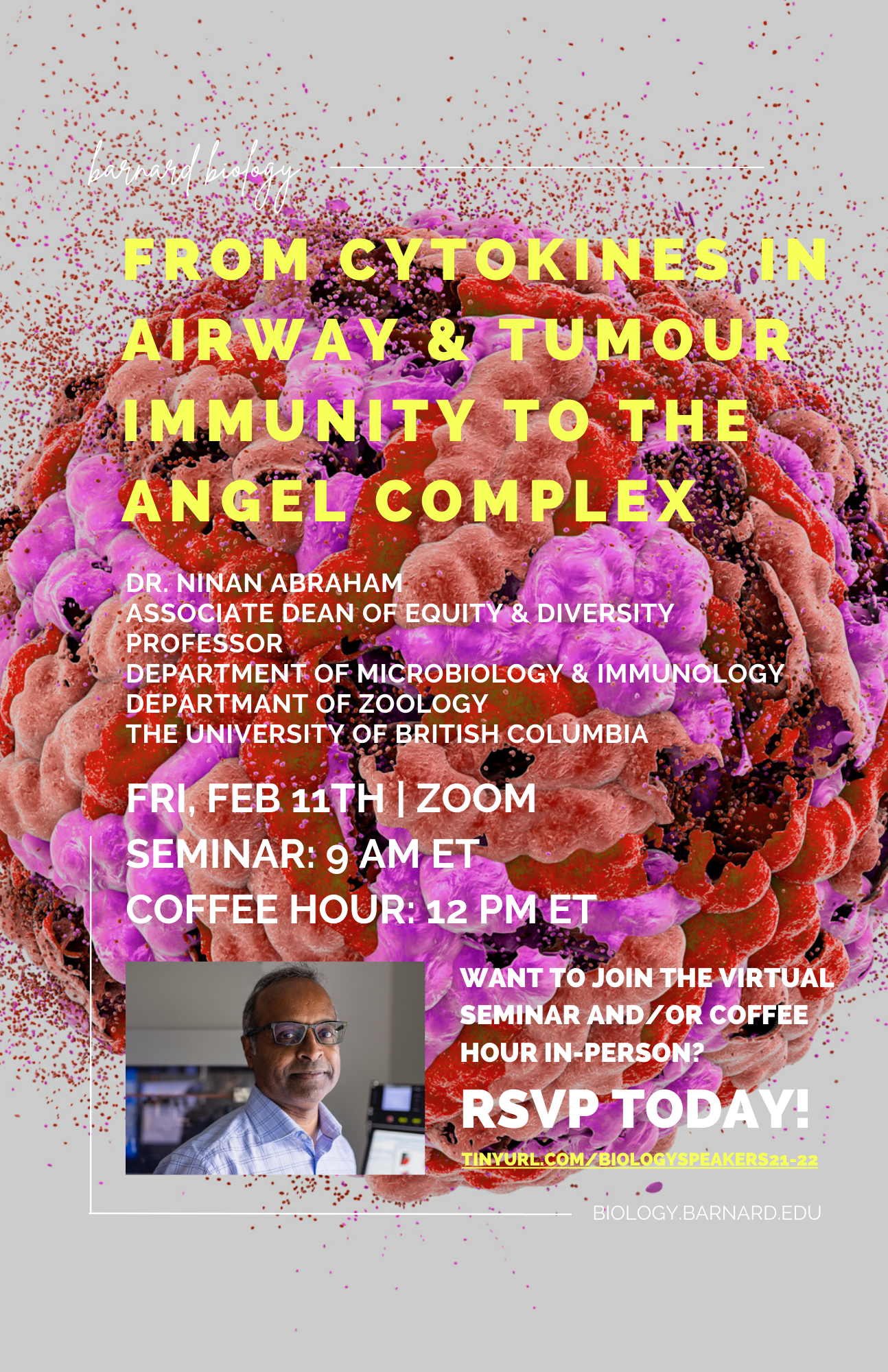 Abstract: This talk will begin with the Abraham lab's interests in cytokine control of lung immunity. We study responses to viral challenge and their regulation by the IL-7-family of cytokines. We focus on effector CD8 T cell response to Influenza/A infection in various mouse models and document a key role for IL-7, beyond its known role in early lymphopoiesis. We will also show unbiased immune-phenotyping of lung cancer in mice and patients to discern immune cells that may enable better survival outcomes. Finally, I will touch on the data-centred approach used at the UBC Faculty of Science to assess faculty equity and inclusion. It will refute assumptions about the state of racial and gender equity amongst our faculty, examine the evidence of persistent racial bias in academia, and suggest ways to ensure a culture shift in practices.
Dr. Ninan Abraham: Dr. Ninan Abraham is a Professor in the Department of Microbiology and Immunology, the Department of Zoology and Associate Dean, Equity and Diversity in the UBC Faculty of Science. His research focuses on the regulatory points in immune cell control with specific interest in airway immunity to pathogens and lung cancer. As Associate Dean, he has responsibility for equity, diversity, and inclusion initiatives, including the training of faculty search committees, faculty data analysis, and reporting on EDI progress for the Faculty of Science. He has been interviewed by The Globe and Mail and advised Canadian Institutes for Health Research and other policymakers on best practices. He is the Director for Equity, Diversity, Inclusion, and Indigeneity for the Canadian COVID Variant Rapid Response Network. He serves on the UBC President's Anti-Racism and Inclusive Excellence Task Force.
Fall 2021 Seminars
Image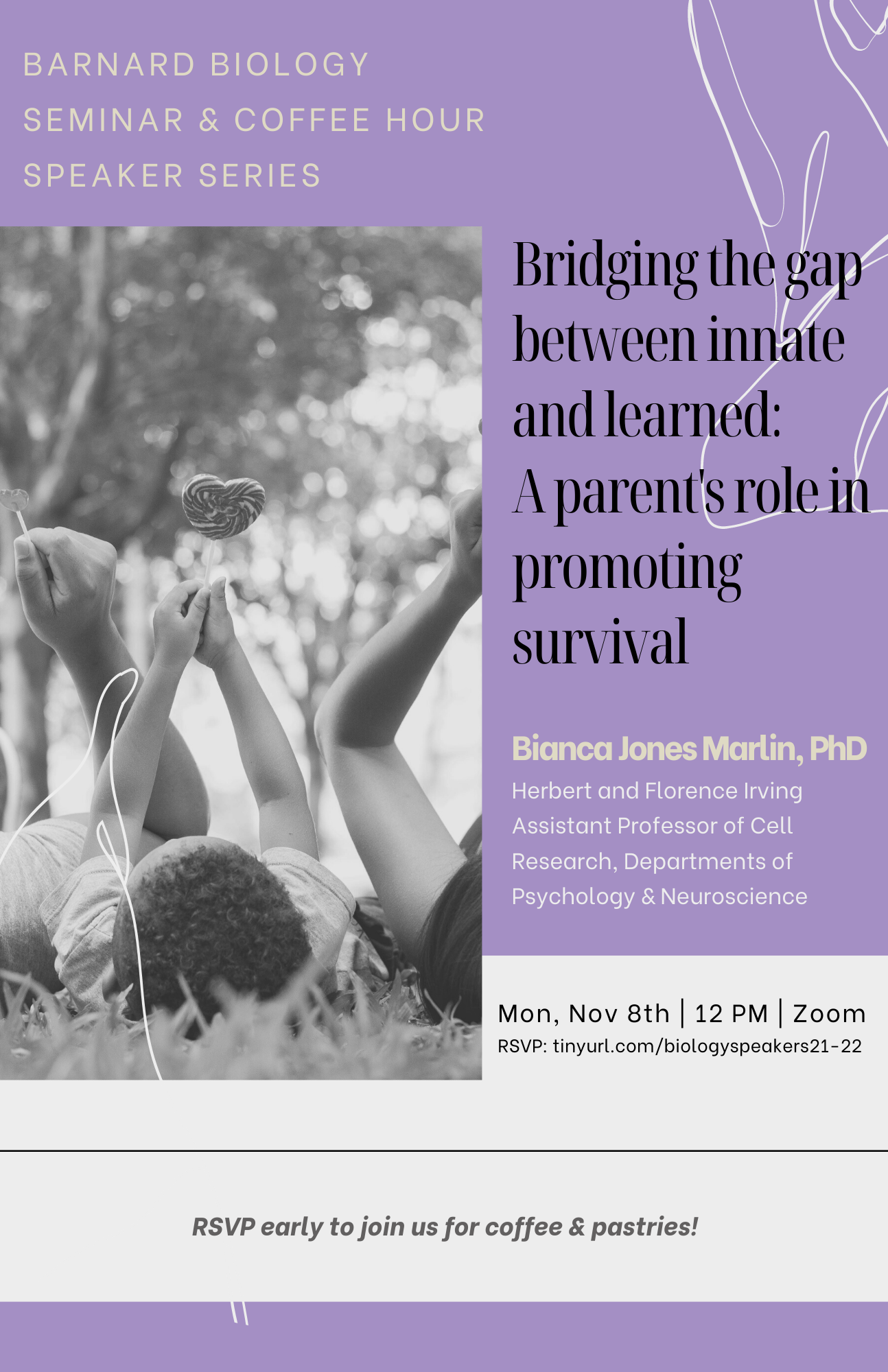 Abstract: The Marlin Lab uses a mouse model to uncover the biological mechanisms. Stress experienced by a male mouse, for example, can change his offspring's behavior and brains, even when the male has no contact with his offspring after birth. Some of the primary questions Dr. Marlin aims to answer include whether offspring learn stress behaviors from their parents, or if there is something more beyond. DNA in the genes inherited by the offspring remains unchanged, but other molecules that control the activity of the genes—whether the genes are turned off or on—may be passed down through generations.
Dr. Marlin's interest in neuroscience and behavior was sparked by her training to become a high school teacher and by her family. Her biological parents were also foster parents. While growing up, her interest in human behavior and human interaction was piqued because of her siblings, who had different parents and genetics. In graduate school at New York University, she studied maternal behavior in mice and how the brain changes after females give birth to prepare them to care for newborns. She discovered that a hormone called oxytocin, which increases in the mother after she gives birth, alters the mother's brain in a way that makes her more nurturing. Based on that discovery, Marlin received the Donald B. Lindsley Prize in Behavioral Neuroscience from the Society for Neuroscience in 2016. In 2017, she was named a STAT Wunderkind.
Dr. Bianca Jones Marlin: Dr. Bianca Jones Marlin, one of the newest faculty members at the Vagelos College of Physicians and Surgeons, opened her own lab as an assistant professor of psychology and neuroscience in January, 2021, at the Jerome L. Greene Science Center, the home of the Zuckerman Institute. Since beginning as a postdoc with Richard Axel, MD, in 2016, Dr. Marlin has been working to answer one of biology's most perplexing questions: How does stress or trauma get passed down to children and even grandchildren? Dr. Marlin aims to utilize neurobiology and the science of learning to better inform both the scientific and educational community on how positive experiences dictate brain health, academic performance, and social well-being.
Image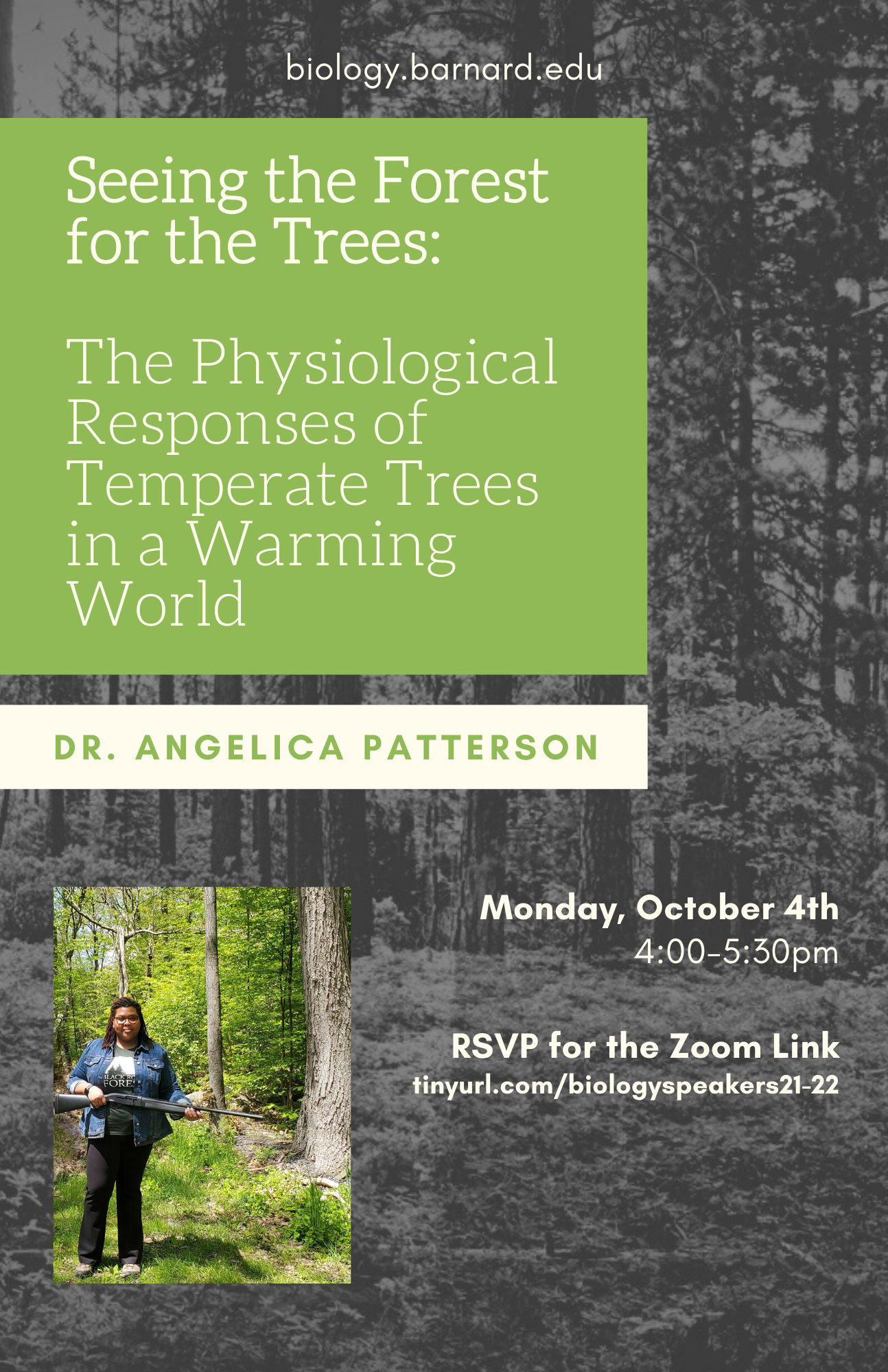 Abstract: The forests of the northeastern US are globally, one of the fastest growing terrestrial carbon sinks due to historical declines in large-scale agriculture, timber harvesting, and fire disturbance. However, climate-induced tree migration is altering forest community composition and carbon dynamics. The investigation of tree physiological responses to temperature across resident and migrant trees in a northeastern US forest provided evidence that suggests that resident species may have a physiological disadvantage compared to their migrant counterparts. Compounded with this result, an array of ecological disturbances further threatens the dominance of resident trees, resulting in species replacement that may reduce the carbon storage potential of northeastern US forests.
Dr. Angelica Patterson: Angelica Patterson is the Master Science Educator at Black Rock Forest. She received her B.S. degree in Natural Resources from Cornell University and her M.A., M.Phil., and Ph.D. from Columbia University, where she studied plant ecophysiology. Her interests in understanding the mechanisms behind climate-induced tree migration and plant community shifts inspired her to examine tree physiological responses to temperature as part of her dissertation research. Patterson is a strong advocate for diversity, equity, and inclusion in the environmental sciences and has served on various committee and working groups. She has served as a speaker at several US universities, environmental organizations, and K-12 institutions, and has been profiled in publications such as The Guardian, The Forestry Source, Cell Press, and the National Environmental Education Foundation. For more information about her and her work, visit her on twitter @ColorfulSciGirl or at www.theshotgunscientist.com.
Spring 2021 Seminars
Image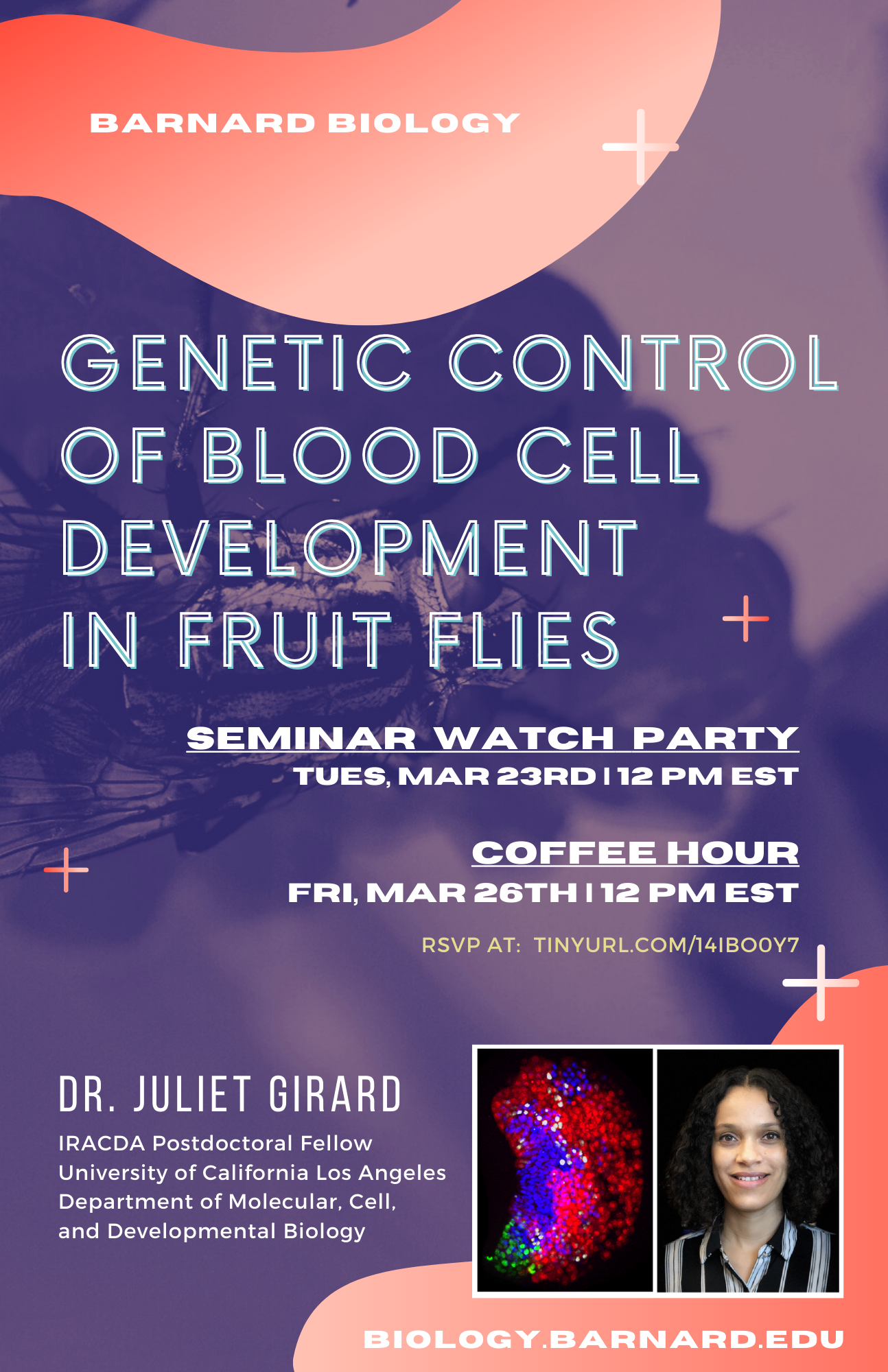 Abstract: My research addresses how intercellular signaling and the gene expression it triggers affect the development of blood cells (hematopoiesis). In particular, I am interested in how undifferentiated progenitor cells differentiate into a variety of specialized blood cell types. Insights into the molecular mechanisms that underlie blood formation are necessary to understand the causes of blood diseases such as leukemia and may aid in the development of new therapies. The fruit fly, Drosophila melanogaster, represents a powerful model system to understand human hematopoiesis because it is a genetically tractable system that shares striking similarities with several human blood cell types. My research combines the power of traditional genetics and microscopy in Drosophila with newer single cell and molecular techniques. Detailed single cell transcriptomic analysis has revealed new cell subtypes that represent intermediate states of differentiation, but currently there is very little known about these subpopulations. For example, a mature cell population known as crystal cells, which was previously thought to be relatively homogeneous, was found to contain two distinct subpopulations that differ in cellular properties and maturity. By following up transcriptomic analysis with traditional genetics and microscopy, I discovered a new type of regulation on a non-canonical Notch signaling pathway that is important for the transition between these two crystal cell subtypes. My analysis thus far has allowed me to pinpoint more interesting candidate genes that are uniquely expressed in multiple specific blood cell subtypes, many of which have not been previously studied in the blood system. In my research laboratory, I will further explore how these specific genes affect the development of particular blood cell populations using a combination of genetics, microscopy, flow cytometry, biochemistry, and molecular biology.
Dr. Juliet Girard: Juliet received her bachelor's degree in Biochemical Sciences, cum laude from Harvard University in 2007 and her Ph.D. in Biochemistry and Molecular Biology from University of California San Francisco in 2015. Since receiving her Ph.D., Juliet has been doing developmental genetics research and teaching undergraduates and Master's students using evidence-based practices as an IRACDA postdoctoral fellow at University of California Los Angeles (UCLA).
Image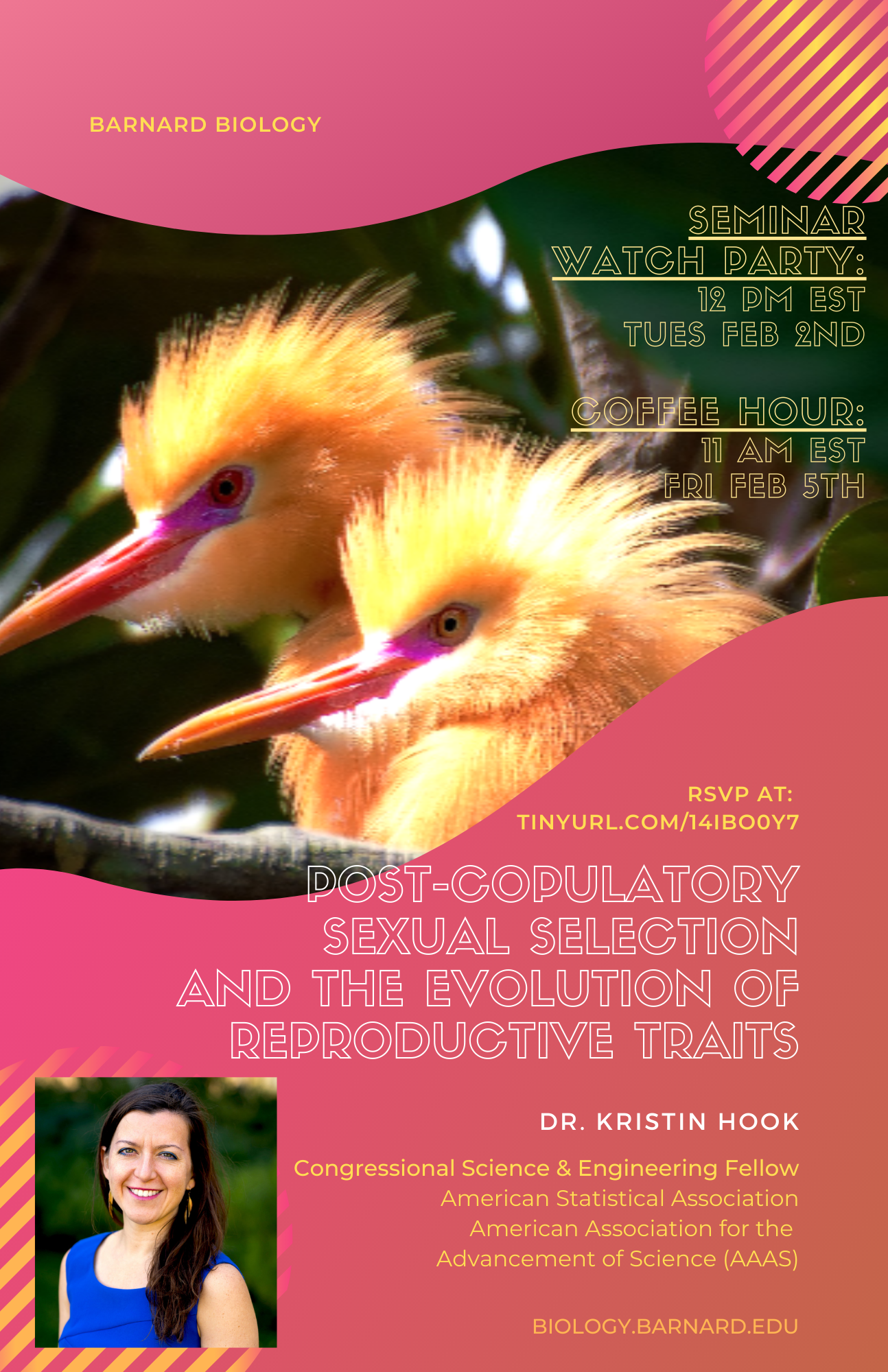 Abstract: The stalked eyes of some tropical flies. The elaborate courtship dances of the birds-of-paradise. The gigantic sperm cells of a tiny fruit fly. The corkscrew-shaped vaginas of some waterfowl. All of these elaborate traits exist because of sex. In the 1800s, Charles Darwin recognized the sexual struggle as being twofold; it involves both direct competition between males and female choice of the best quality suitor. But nearly a century would pass before a further division of his sexual selection theory was recognized–namely, that these two processes continue to occur after mating. One of the reasons it took so long for this discovery is that females were assumed to be coy and monogamous. But female multi-male mating is the rule, not the exception, across the animal kingdom. And when females mate with multiple males in a single reproductive cycle, their behaviors set the stage for processes that happen after mating that drive the evolution of reproductive traits–traits that allow females to exercise choice over sperm use and who gets to fertilize her eggs as well as traits that allow males to outcompete rivals in their race to fertilize her ova, which can lead to conflict between the sexes and a co-evolutionary arms race to optimize their reproductive success. Together these dynamic and complex post-copulatory processes are a major driving force behind the remarkably diverse, elaborate, and downright bizarre reproductive traits we observe in nature and thus serve to generate biodiversity.
Dr. Kristin Hook: Born and raised in South Texas as a descendant of Mexican immigrants, Kristin Hook considers herself an unlikely scientist. She earned her B.S. in Biology with Special Honors and B.A. in Plan II Honors (an interdisciplinary humanities program) at the University of Texas at Austin. She is the first in her family to hold a professional degree and earned her Ph.D. in Animal Behavior from Cornell University in 2016.
Prior to graduate school, Kristin spent three years as a classroom science teacher in New York City through Teach for America. After getting her PhD, she moved to Washington, DC, where she spent four years as a postdoc at the University of Maryland and now works as a Congressional Science and Engineering Policy Fellow in the U.S. Senate. Kristin is strongly committed to social justice causes and is passionate about making science accessible. She has over a decade of experience communicating science and is excited to be using this skill now in our government to help promote policies based on sound evidence. In her spare time, Kristin enjoys music, yoga, comedy, and cooking and volunteers as a child advocate for unaccompanied immigrant children with the Young Center for Immigrant Children's Rights.
Fall 2020 Seminars
Image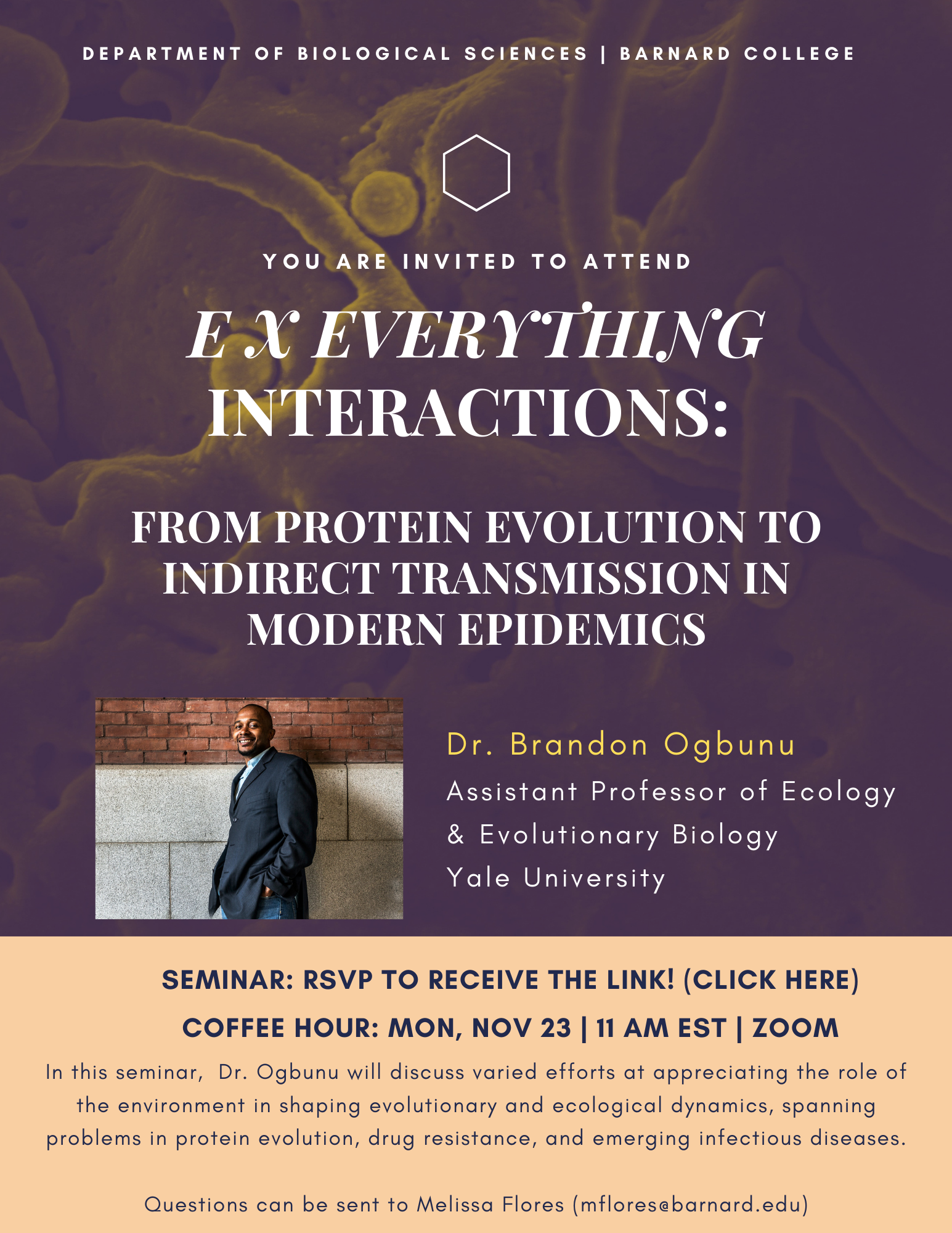 Abstract: In this seminar, Dr. Ogbunu will discuss varied efforts at appreciating the role of the environment in shaping evolutionary and ecological dynamics, spanning problems in protein evolution, drug resistance, and emerging infectious diseases.
Dr. Brandon Ogbunu: Dr. Brandon Ogbunu is an Assistant Professor in the Department of Ecology and Evolutionary Biology at Yale University. He is a computational biologist whose research investigates complex problems in epidemiology, population genetics, and evolution. Additionally, he runs a parallel research program at the intersection of science, society, and culture. He writes, gives public lectures, and creates media of various kinds. He is currently an Ideas contributor at Wired, and has written for a range of publications including Scientific American, Undark, and the Boston Review all on topics at the intersection of science and society.
Image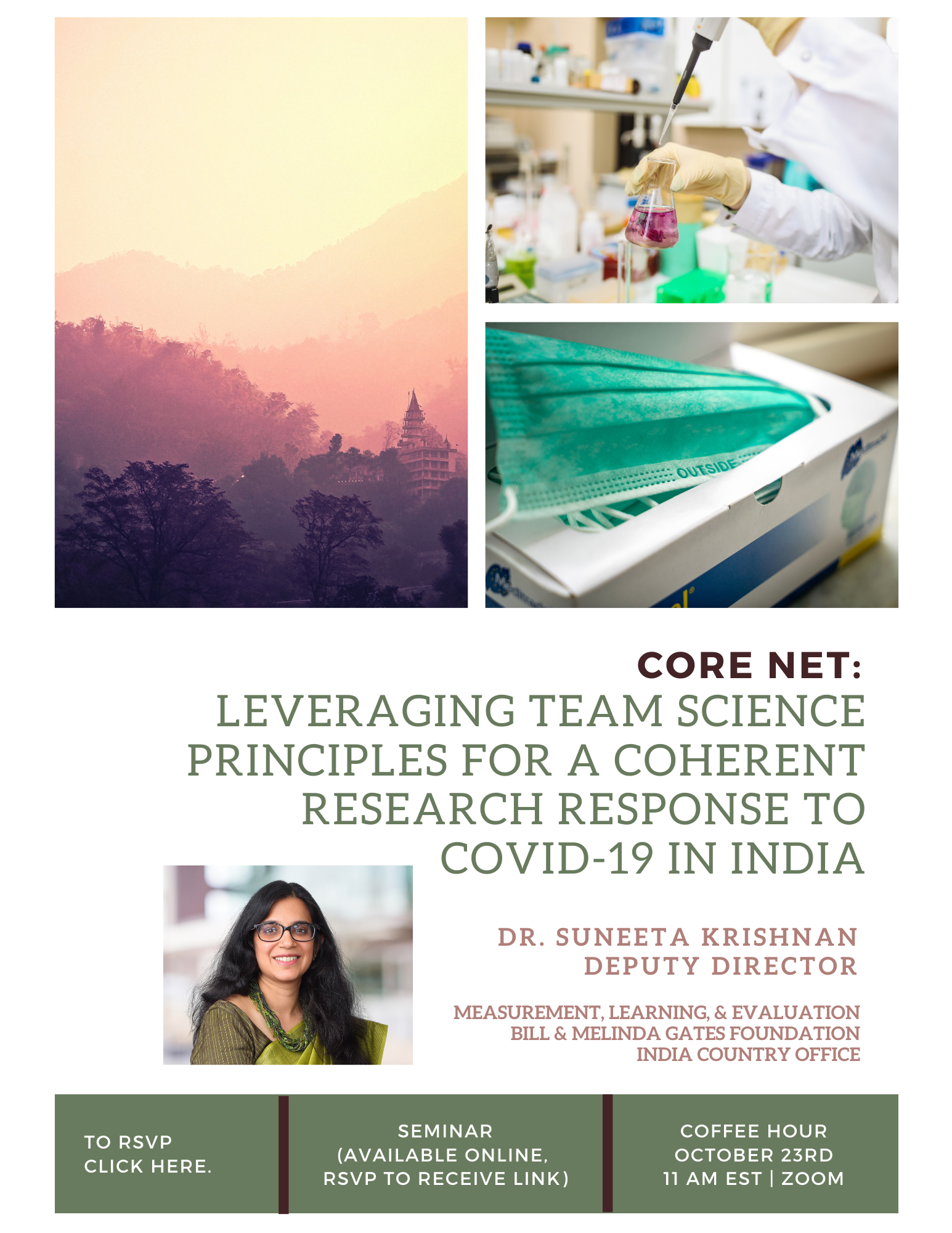 Abstract: Suneeta Krishnan is Deputy Director of Measurement, Learning and Evaluation at the Bill & Melinda Gates Foundation's India Country Office. Her team is responsible for grant-making to inform and evaluate the foundation's investments in support of India's health and development goals and to enhance the national data and evidence ecosystem. In this lecture, Suneeta will describe CORE Net—a network of researchers who are studying the impacts of the global pandemic on lives and livelihoods in India. She will reflect on the impetus for establishing the network and share emerging insights on the effects of COVID-19 among vulnerable populations and communities.
Dr. Suneeta Krishnan: Suneeta is a recipient of the 2004 U.S. Presidential Early Career Award for Scientists and Engineers. She has a BA in Biological Sciences from Barnard College (class of '92) and a PhD in Epidemiology and Biostatistics from the University of California, Berkeley. She is also the parent of a Barnard '23 student.