As part of a global response to the alarming fact that the "last four years were the four hottest on record, and winter temperatures in the Arctic have risen by 3°C since 1990" (UN Climate Action Summit 2019), the NYC Department of Education announced last week that the city's 1.1 million public school students would be excused from school if they chose to participate in the Climate Strike on September 20, 2019. Not surprisingly, some of Barnard's faculty and students heeded the call to protest as well.
Since the College first signed on to the New York City Mayor's Carbon Challenge in 2007, committing to cut its building-related carbon emissions by 30% in 10 years, it's been a high performer, climate-wise. In fact, there are approximately 25,000 square feet of green space on campus. The following is a snapshot of some of the College's grassroots and strategic climate action initiatives, from upcoming events in the new Feel Well, Do Well @ Barnard initiative to ongoing sustainability efforts, and our faculty's climate research and student-led projects.   
The College
#ClimateStrike 2019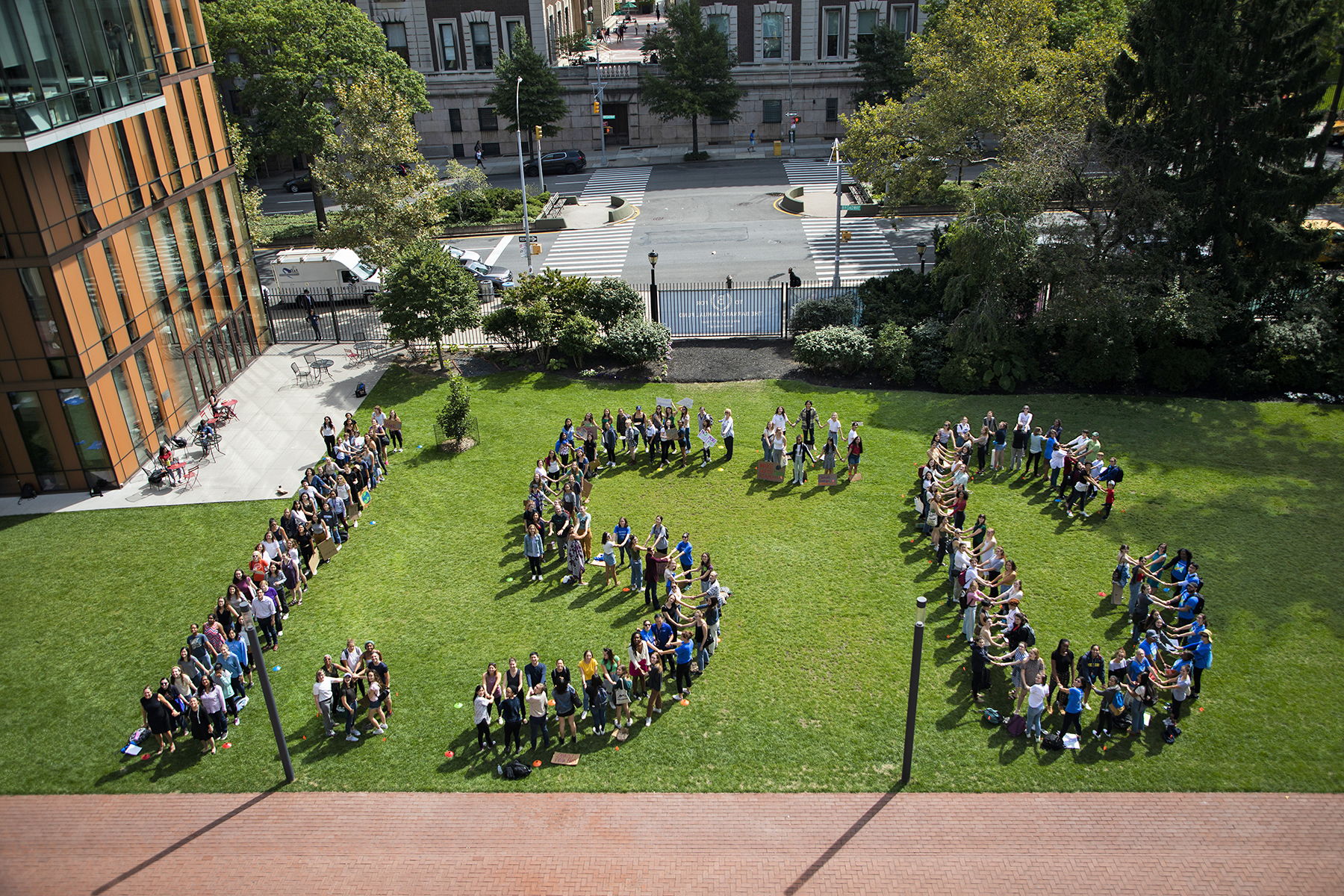 Along with 250,000 other climate activists in New York City, Barnard students and faculty from across departments gathered on September 20, 2019, to participate in a larger climate strike before the UN's Climate Action Summit. Several hundred students worked to create handmade signs on Futter Field before taking a group photo as "1.5°C" (left) — scientists say that the global average temperature increase (above preindustrial levels) must be kept below 1.5° Celsius to avoid the worst impacts of climate change. The group and many other members of the Barnard community then headed downtown to Foley Square to join the rest of New York City in its collective fight for climate action. 
Watch a video below of Barnard's students discussing their climate activism:
Get Outdoors: Feel Well, Do Well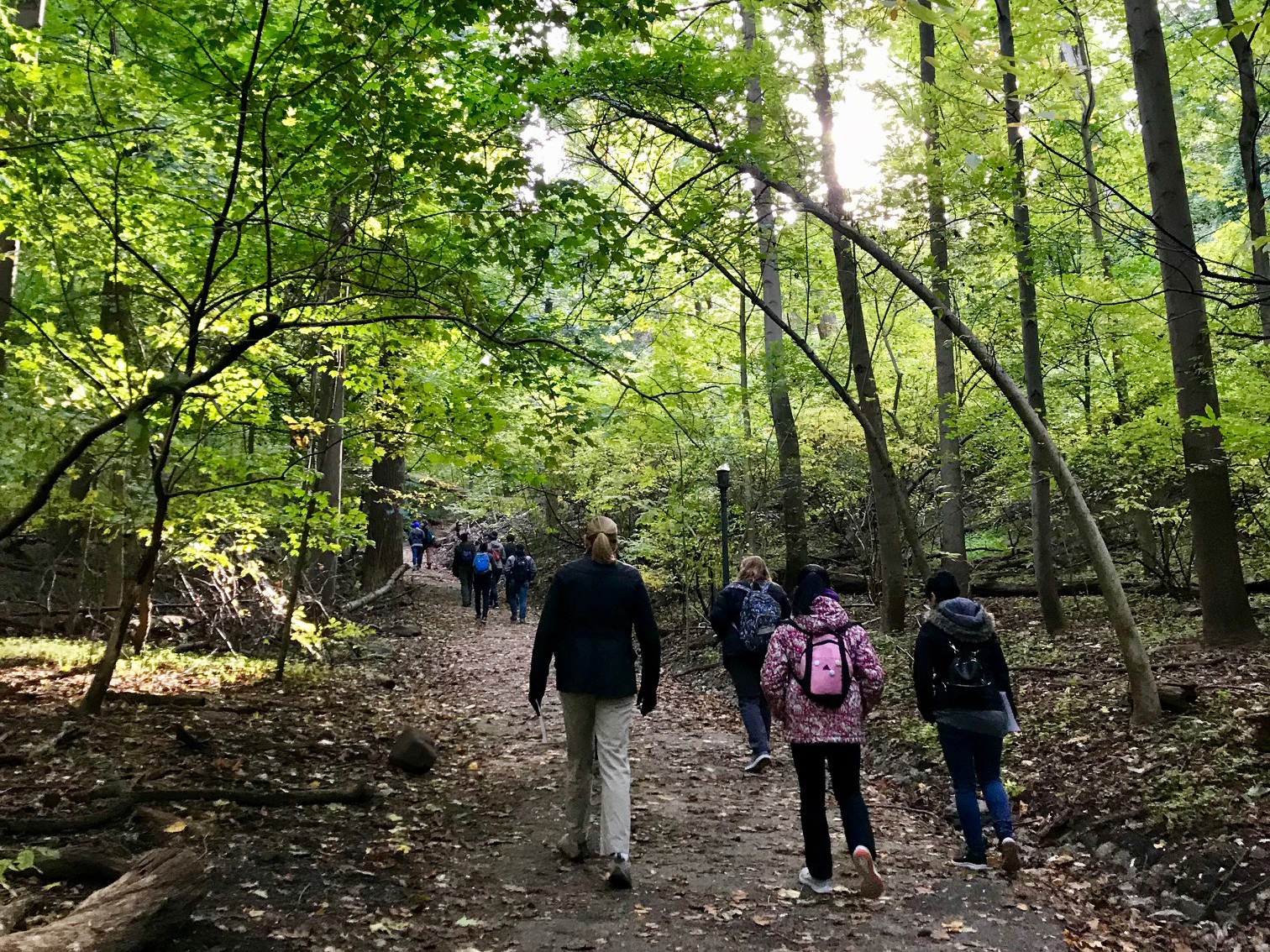 Come out on October 17, 2019, from 3:30 to 5:30 p.m., when Barnard hosts an Annual Fall Community Outing for the College community to connect and explore Riverside Park and our local greenmarket. The walk is gentle, and all paths are paved and accessible. The event is co-sponsored by Barnard Sustainability, the Health Services Division, and the Council on Diversity, Equity, and Inclusion. Sign up here if you're interested in participating. 
Academic Coursework
Across disciplines, Barnard's coursework incorporates the natural world and climate change into its teaching and research. These courses allow students to explore and grapple with our human interactions with the natural world from a variety of perspectives, ranging from the hard sciences to the fine arts. For example, in Martin Stute's Workshop in Sustainable Development, the Alena Wels Hirschorn '58 and Martin Hirschorn Professor in Environmental and Applied Sciences and co-chair of the environmental science department has students collaborate with community organizations and government agencies to create products, such as marketing materials and smartphone apps, that help address real-world environmental issues. The interdisciplinary course The Global Power of Botany: Plants and Profits, taught by Hilary Callahan, Ann Whitney Olin Professor of Biology, gives students hands-on experience to learn how to preserve physical plant samples, make plant comparisons with the help of garden archives, and digitize various specimens. Read how biology students collaborate with the world's second-largest herbarium in "The World of Plants." 
Watch a video of The Global Power of Botany class below:
Sustainability Practices Committee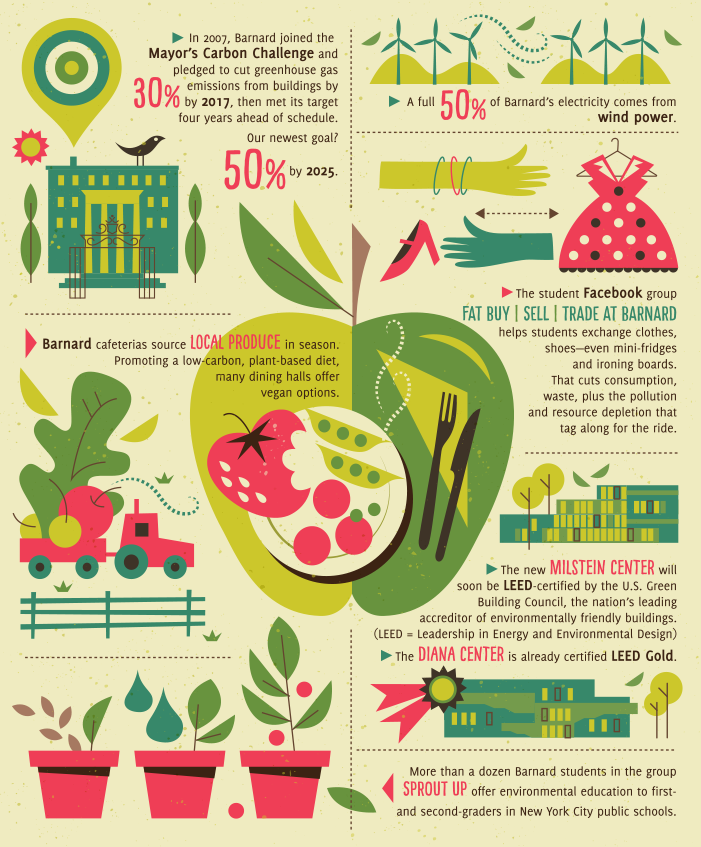 In winter 2018, students, faculty, and staff discussed how to cut consumption and waste at Barnard. "What the Sustainable Practices Committee (SPC) is really trying to do is to extend the vision of how responding to climate change fits into who we are at Barnard, in everything that we do," said Sandra Goldmark, the associate professor of professional practice in theatre who also became Barnard's first-ever director of campus sustainability and climate action.
The Campus
The Diana Center
In December 2010, the Diana Center achieved a LEED Gold certification from the U.S. Green Building Council for its high scores on sustainability, water efficiency, indoor environmental quality, and innovation. The structure won the 2011 American Institute of Architects (AIA) Honor Award for Architecture and the AIA Best in New York State Award. It was also recently named Building of the Year (education category) by ArchDaily. Among the Diana Center's sustainable features is its planted green roof, with its pavilion and open patio, which extends the life of the roofing membrane, provides energy savings, and offers an ecological learning center for Barnard's biology and environmental science students. The building also maximizes daylight and incorporates operable windows, radiant flooring, and recycled materials to achieve optimal comfort and control. Occupancy sensors, automated shading, and high performance mechanical, electrical, and plumbing systems increase efficiency.
The Cheryl and Philip Milstein Center for Teaching and Learning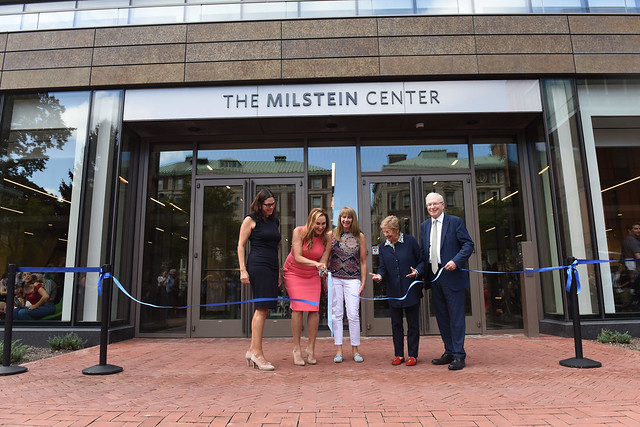 The Milstein Center, which opened in October 2018, features 12,472 square feet of green roofs and outdoor terraces that reduce the urban-heat-island effect, cut energy use and stormwater runoff, and provide inviting spaces for study, contemplation, and connection with nature on campus. The facade is made of patinated zinc shingles that harmonize with the surrounding brick, stone, and concrete buildings. The building's design has been recognized with prestigious awards, including the 2019 AIA/ALA Library Building Award and the 2019 Prix Versailles for its exterior.
Watch a video of the Milstein Center's grand opening below:
Buildings & Energy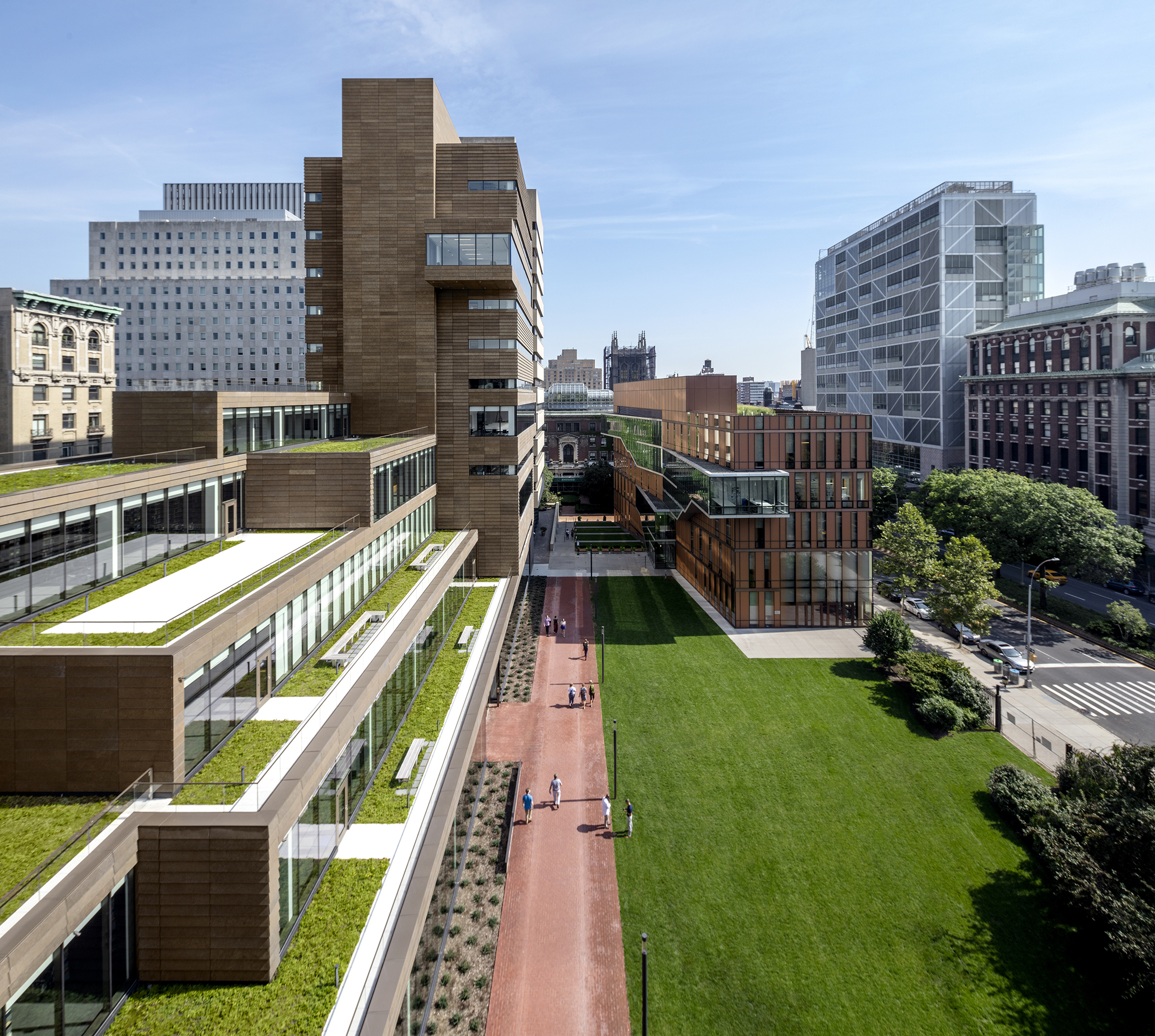 Barnard accepted the NYC Carbon Challenge for Universities in 2009 and was one of a few institutions to achieve the first stage of the challenge — a 30% reduction in Scope 1 and 2 emissions from 2005 base-year levels — ahead of schedule. The College is committed to the next phase of the program, a 50% reduction by 2025. In order to achieve this goal, Barnard will continue building retrofits, along with new projects to make our energy systems more efficient. 
Consumption & Waste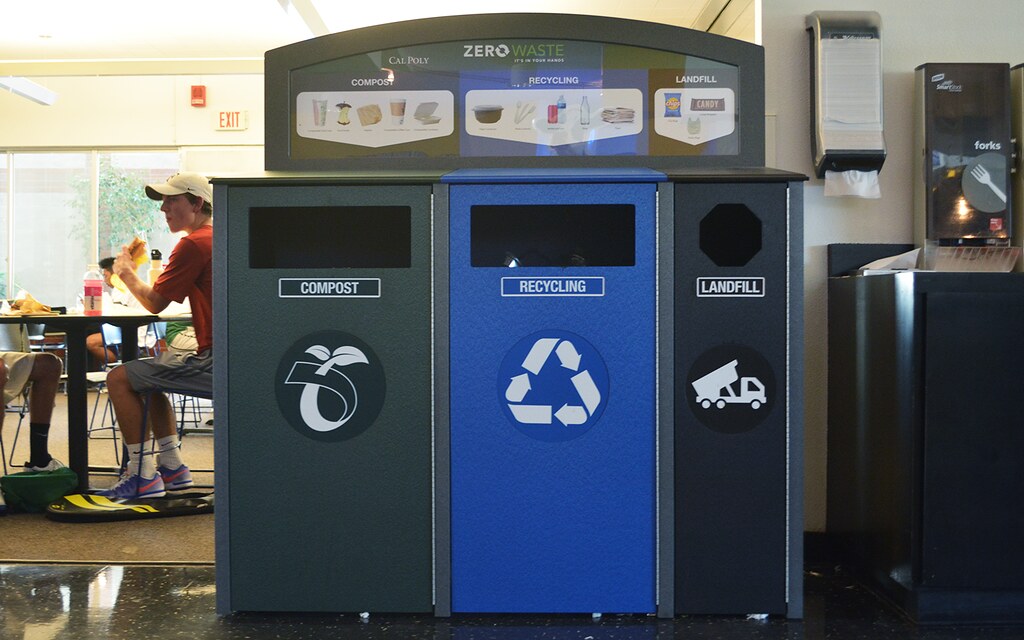 In 2016, Barnard completed a comprehensive assessment of our greenhouse gas emissions through Gotham 360. Gotham 360 is a national energy management consultancy headquartered in New York City. This assessment concluded that Scope 3 made up the largest portion of Barnard's emissions, meaning our trash, our commutes, our purchases, and our air travel. To begin addressing our Scope 3 emissions, in 2018 we redesigned our waste collection system so that signage was clearer and the appropriate waste was being diverted from the landfill. This also included a switch to single-stream recycling, as well as the implementation of organics collection in academic buildings and offices. We are currently piloting organics collection in the residence halls.
Arthur Ross Greenhouse
In 2019, Barnard celebrated the 20th anniversary of the dedication of the Arthur Ross Greenhouse, a state-of-the-art plant growth facility of the Department of Biological Sciences. Built on the roof of Milbank Hall, it replaced the original greenhouse, constructed in 1928. In March 2019, Hilary Callahan, Ann Whitney Olin Professor of Biology, said, "Increasingly, we're also dovetailing our greenhouse resources and green expertise with campus-wide efforts to achieve sustainability locally and to understand plant-environment interactions on large and global scales."
Watch a video about the Greenhouse below:
Faculty
Hilary Callahan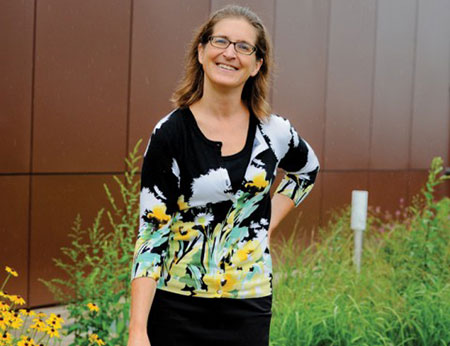 Ann Whitney Olin Professor of Biological Sciences Hilary Callahan examines many different features of plants, from roots to flowers to seeds, and teaches the interdisciplinary course The Global Power of Botany: Plants and Profits, where students learn how to preserve physical plant samples, make plant comparisons with the help of garden archives, and digitize various specimens. She also oversees the Arthur Ross Greenhouse. 
Sandra Goldmark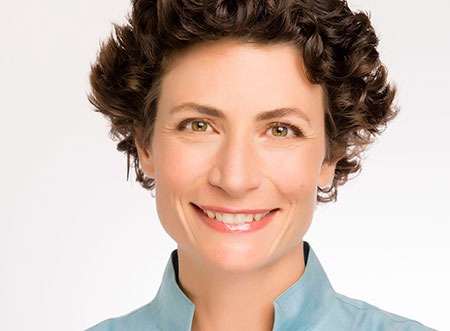 Sandra Goldmark, associate professor of professional practice in theatre and director of Campus Sustainability and Climate Action, is the founder of Fixup, a social enterprise that employs local theatre artists and other makers and technicians to fix household items, reenvisioning repair as a viable and necessary part of a sustainable circular economy. Fixup uses an innovative business structure to create a practical alternative to use-and-discard culture, by making it easy for people to take care of what they have, reduce waste from new manufacturing, and create local jobs. In theatre, campus sustainability, and repair, Goldmark creates innovative solutions for the things we discard and the way those choices impact the environment and our daily lives. Read her recent New York Daily News op-ed, "What our garbage can tell us about the climate." 
J. C. Salyer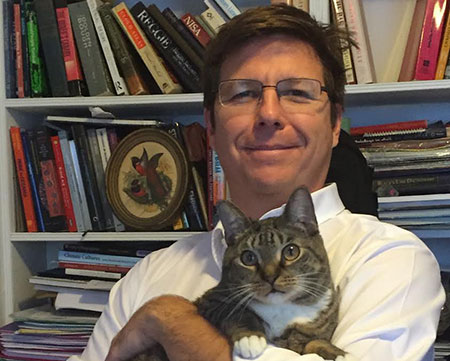 J.C. Salyer, director of the Human Rights Program and assistant professor of practice, anthropology, and human rights, is a co-organizer of Pacific Climate Circuits, a three-year symposium at the Columbia University Center for the Study of Social Difference, which considers issues relating to climate change in the Pacific through the lens of the social sciences and humanities. 
Martin Stute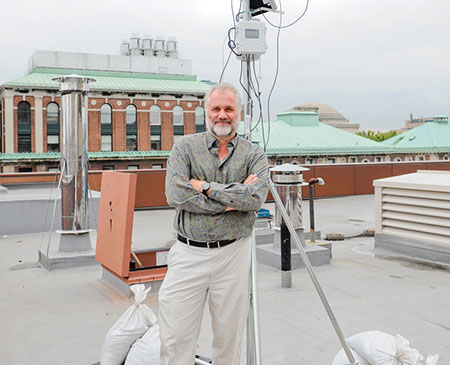 Alena Wels Hirschorn '58 and Martin Hirschorn Professor in Environmental and Applied Sciences and co-chair of the environmental science department Martin Stute focuses his research on water resources, carbon sequestration, and the social and economic impacts of climate change. He is currently involved in a project determining the greenhouse gas footprint of NYC. In 2016, Stute co-authored a groundbreaking study in Iceland — the first time harmful CO2 emissions from a power plant were captured, pumped underground, and turned into stone. The same year, he and Professor Brian Mailloux co-authored a paper proving that fracking can contaminate drinking water sources. He received a federal grant to address climate change in 2017.
Paige West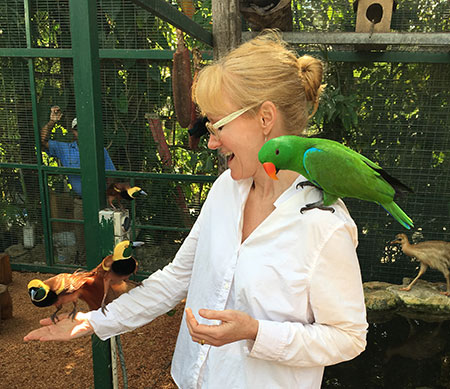 In 2014, Claire Tow Professor of Anthropology Paige West and Salyer delivered the Distinguished Lecture in Anthropology at the American Museum of Natural History to discuss the effects of climate change on people and their environments. For three years, West has co-directed a project on climate change in the Pacific through Columbia's Center for the Study of Social Difference; she is the co-PI on a National Science Foundation grant on climate and migration; and for over a decade has worked in partnership with a national colleague from Papua New Guinea, focusing on empowering local communities to do environmental conservation. 
Alumnae
Tsechu Dolma '14
Tsechu Dolma '14, founder of the Mountain Resiliency Project, has employed local workers in her birth country of Nepal to rebuild 207 homes to fortify them against earthquakes. She also co-created the first Tibetan Young Women Leaders Fellowship in Nepal, which helps young women with economic empowerment and opportunities for community leadership. "Climate change exacerbates developmental disparities for women and therefore required a gender-sensitive strategy," Dolma said.
Samantha Jakuboski '18
Samantha Jakuboski '18 published an op-ed in Nature Education in January 2015 warning about climate change. The piece, "Message to My Fellow New Yorkers: Why You Should Care About Climate Change," was written as part of the first-year seminar Fire and Ice: Exploring Energy and Climate, taught by John Magyar, assistant professor of chemistry. In the article, Jakuboski warns: "By 2100 the ocean level could rise up to 72 inches, thus potentially transforming some low-lying parts of the city into a permanent Atlantis."
Rhea Suh '92
Rhea Suh '92, former president of NRDC, was honored at Barnard's 2018 Commencement with a Medal of Distinction. Sandra Goldmark, associate professor of professional practice in theatre and director of campus sustainability and climate action, who presented the award, said of Suh: "In 2015, you became president of the Natural Resources Defense Council, because fighting for what's right is what you do best. With nearly 500 scientists, lawyers, and policy pros, and the support of over two million members, you and the NRDC preserve and protect our environment for people from all communities, races, ethnicities, and incomes — and that means safeguarding the air, water, land, and quality of life that we will pass on to our children. Your influence was felt in the lead-up to the Paris climate change agreement and in the cleanup of the toxic water in Flint, Michigan. And when you rallied the crowd at the Women's March on Washington, you noted how each individual there had made a personal choice to make a collective difference."
Watch, below, as Suh speaks about collective activism:
Jill Van den Brule '98
Jill Van den Brule '98 penned the article "Climate Consciousness Artist Kito Mbiango on the Power of Art to Drive Action on Climate Change" for the peer-reviewed online publication Solutions, which is devoted to showcasing bold and innovative ideas for solving the world's integrated ecological, social, and economic problems. In the article, Van den Brule writes: "It is getting harder to deny the truth that our consumption patterns are directly responsible for what's happening. The biggest cause of wildlife losses is the destruction of natural habitats, much of it to create farmland to support our lifestyles." 
Students
During her senior year, Alison Powell '09 brought a farmshare, Community Supported Agriculture (CSA), to Morningside Heights in March 2009. "Our farmers send us weekly newsletters," said Powell, "[that] even include how much water they're using and what their irrigation system is like, and what cover crops they're using this year. And that's something that involves you in the food cycle in a completely different way from going into a store and buying it. The members have to learn the reality of the situation, and this creates an awareness that we lack from going to [a supermarket.]"
Students collaborate on sustainable initiatives on campus through the Student Government Association's (SGA) Committee on Sustainability, which works alongside the SPC to execute sustainable initiatives on campus. "That's our main priority here," said SGA representative Barbara Whitehead '22, "to recycle and make sure that people don't have to go out to Bed, Bath & Beyond and stores to buy new products."
Sprout Up NYC provides college student-led environmental education to public elementary schools across the city. 
The Barnard Community Garden, launched in the summer of 2018 by students to help combat food justice, consists of a small raised bed in the Quad. 
Sunrise Columbia/Barnard is a chapter of the greater national Sunrise Movement to combat climate change. 
The Barnard Outdoor Adventure Team is a student-led group that embarks on hikes and overnights in the wilderness of New York state. 
Sustainable Initiatives Consulting Board (SICB) is composed of appointed students actively researching and assessing campus sustainability in order to maintain and/or improve the social commitments of the College. The board works with students and administrators in developing policies and building infrastructure to increase campus sustainability, through waste reduction, energy consumption, and water conservation. The representative for Sustainable Initiatives will also work with the SGA Finance Committee and the SGA Green Fund. 
In addition to introducing new students to the ReBear Boutique, Barnard's used-clothing swap shop, New Student Orientation Program (NSOP) leaders host the annual "Give and Go Green" event and hand out the Barnard Sustainability Guide to as many first-years as possible. 
Watch a video about the annual "Give and Go Green" event below: